Harbourfront Centre School Visits is committed to creating an inclusive, accessible learning community that explores contemporary arts, culture and ideas, fostering joy, curiosity, personal growth and building connections to our city. Rekindle your relationship with experiential learning and let your students explore contemporary arts and culture at Harbourfront Centre!
Subscribe here for program updates!
Begin Your School Visit Here
Choose Your Grade
or
Search Curriculum Connections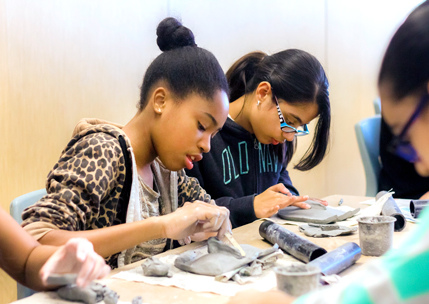 Core Programs
Our core programs run onsite at Harbourfront Centre, allowing your students the opportunity to explore Visual Arts & Contemporary Craft, Performing Arts and Urban Studies. These hands-on, inquiry-based, full and half-day programs are developed with the Ontario Curriculum in mind and taught by our talented Artist Educator.
Seasonal Programs
Our seasonal programs are hosted on our unique 10-acre central waterfront campus.
Our Waterfront Explorations program highlights our campus in May and June and lets the waterfront community provide the backdrop for an unforgettable end-of-year trip!
Creative Edge
Finally, our Creative Edge programs take advantage of the unique educational opportunities inspired by our exhibitions and performances. Our full-time education staff members develop these programs and allow you and your students to engage with contemporary art through a full-day experience on campus. Offerings change regularly – check out our website for further information!
Witness your students engage, explore and think in new ways with a Harbourfront Centre School Visits program!
We look forward to working with you and your students.
– The School Visits Team